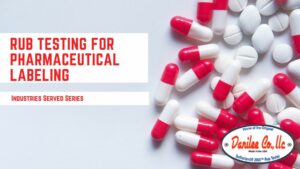 One of the things many people might not think to consider is the critical nature of the labels on pharmaceuticals. If you think about your medicine cabinet you are likely to be faced with many labels staring you in the face, and probably some that are past expiration. That expiration date is just one of the critical bits of information pharmaceutical labeling provides for antibiotics, inhalers, vaccines, and more.
We can take current events into consideration when thinking about pharmaceutical labelling as well. Currently, the world is facing a global pandemic and working to roll out multiple vaccines to high-risk individuals. Each Covid-19 vaccine has different dosing and storage protocols that are detailed in the pharmaceutical labeling. When looking though this lens we can see how important it is to ensure that the labelling on the Coronavirus vaccines is accurate and the quality of the labels themselves can stand up to global shipping and handling.
Why Rub Testing for Pharmaceutical Labels?
Medication is something that touches everyone at some point. Usually when we think about pharmaceuticals we think of the advertisements in magazines or during the evening news for chronic conditions like Diabetes, High Blood Pressure, or Cholesterol. However, many of us take medication regularly for pain, headaches, common colds, and much more. It doesn't matter what type of medication you need it is CRITICAL that those medications have correct labeling for safety.
Expiration Dates – One thing pharmaceutical labels convey is whether a medication is expired or not. Expiration dates and date prescribed information helps you make sure that the medications will have the proper affect. If taken after and expiry, many prescriptions lose their potency and might not help you at all.
Dosing Information – Dosing is another critical piece of information found on labels. How much to take, when, and age/ weight requirements for dosing can make sure that you are taking your prescribed prescriptions responsibly.
Patient Information – For pharmacies, patient information is critical. Imagine a pharmacist handing out the wrong medication because the label had rubbed off or the name was illegible.
Storage Information- Lastly another important factor that labels often describe is how to store the medication. Many vaccines need to be kept at a colder temperature while many other medications are at risk in warmer environments rendering these doses possibly ineffective.
Sutherland 2000TM Rub Tester
So where does the Rub Tester come into this? The Sutherland 2000 TM Rub Tester provides pharmaceutical labeling companies the ability to test the endurance of their labels. By testing the quality of labels utilizing a rub tester you can determine exactly how much wear a label could take before critical information could be at risk. Learn more about the rub testing procedure, and get a quote today!