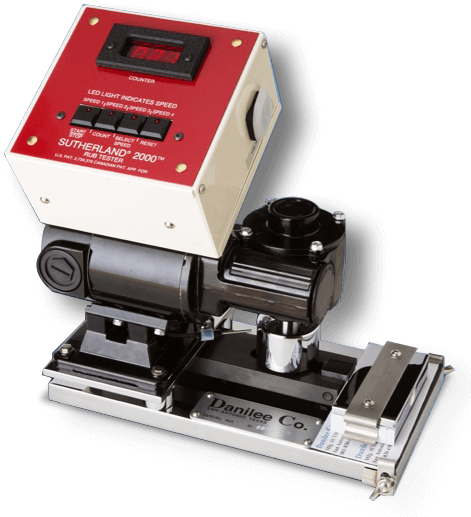 Home of the Original

SUTHERLAND® 2000™
Rub Tester
Recognized as the industry standard for more than 70 years...and still going strong.
SETTING THE PACE AND STANDARD
Compare and see what sets the SUTHERLAND® 2000TM Rub Tester apart from the competition

Tolerances as close as 1/1000th
All weights are within +/- 3 grams.
Other testers tolerances are up to 10x more!

Full 1/12 H.P. rating.
Our motors are never hidden
Compare this to our competition

Our parts are chrome-plated solid brass
Stronger than steel or aluminum
Every instrument is hand-crafted

Industry Standard for 60+ Years
Original machines still in use today
Optional upgrading of models available

21 stroke Wet Smear test
42, 85 & 106 speed strokes
Custom speeds available

Solid 304 stainless steel
Silicon pad included
Fully adjustible temperature range
THE SUTHERLAND® 2000™ Rub Tester
For over 70 years the SUTHERLAND® 2000™ Rub Tester has been recognized as the industries standard for testing abrasion resistance. Today, the SUTHERLAND® 2000™ Rub Tester now offers 4 speeds, allowing the customer even greater flexibility and the Danilee brand has an established reputation for providing an exceptionally qualified rub testing product. Watch more Rub Tester Videos.
The SUTHERLAND® 2000™ Rub Tester is a motor-driven abrasion testing instrument for moving a weighted test strip over a printed specimen through an arc. The tester motor has four speeds: The first speed is 21 cycles per minute (half the speed of the older models) which will make the "wet" tests and tests using under 5 strokes easier to perform. The second speed is 42 cycles per minute, the third speed is 85 cycles per minute (the same as the older models), and the fourth speed is faster at 106 cycles per minute. The exceptional design of the tester enables abrasion testing procedure customization options for a customer's product while maintaining the ability to reproduce a procedure completed by an older model unit.