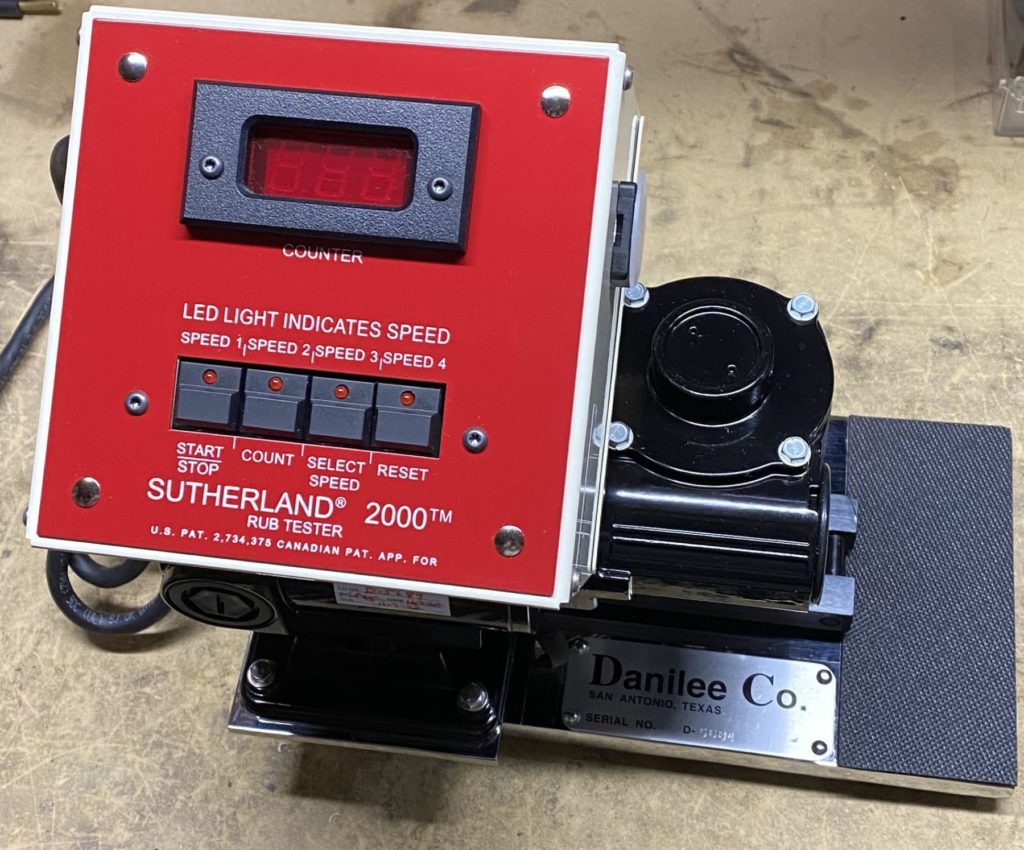 Machines are valuable for enhancing capabilities and performing tasks that can't be carried out through manual labor. Thanks to technological advancements, most devices keep improving with each new update or rollout. Unfortunately, the fast rate of tech development means machines quickly become outdated.  
However, it can be wasteful and inefficient to throw out or replace machines because they're old or do not have the functionality of more modern versions. 
This is true about rub test machines because their core purpose, which is to test the abrasion resistance of printed fabrics, plastics, foil, and other substrates, stays the same. The primary function for rub testing also remains: moving a weighted test strip over a printed material to determine how resistant a material is to abrasion. Experts such as Danilee Co., LLC, can upgrade these machines and make them up to par with the newer models.
Examples of Rub Test Machine Upgrades
Upgrades and retrofits allow you to make full use of hard-wearing machines like the SUTHERLAND 2000 Rub Tester. 
Upgrades lend modern functionalities to a classic machine and improve its performance by incorporating the latest technologies into its core programming. Upgrading also includes replacing old, worn-out, or obsolete components with newer, better-performing parts. Retrofits bring similar benefits. Retrofitting means adding new components or features not present in the original iteration.
Here are some examples of upgrades that Danilee Co., LLC, can do on rub testers:
We can upgrade rub test machines built as early as the '50s by retaining the base plate and retrofitting the machine from the arm up. 

Upgrade an older model to have four-speed units, which is the standard for modern SUTHERLAND rub testers. 

First speed: 21 cycles per minute (ideal for wet smear tests)

Second speed: 42 cycles per minute (the speed of the original, single-speed tester)

Third speed: 85 cycles per minute

Fourth speed: 106 cycles per minute

Upgrade the digital controllers and software for rub testers whose electromechanical test frames and components are still functioning well. Similar to many other machines, the control platforms for these machines can go out of date faster than the hardware. Their software can be unsupported in the next ten to fifteen years, but the mechanisms will still be in good working order. 
It bears mentioning that SUTHERLAND 2000 rub testers are customizable from the onset. We designed the machine in a way that allows us to customize abrasion testing procedures according to a customer's needs. 
Here are some of the customizations we offer that can also apply to upgrades and retrofits:
Options for test strips:
One-pound, half-pound, and quarter-pound weights

Four-pound and two-pound heated weights (both come with a silicone pad)
Options for substrate-specific tests:
Dry rub

Wet rub

Wet bleed or transfer

Wet smear

Functional rub
Customizations to accommodate specific substrates and dimensions:
Clothing or fabrics

Wood 

Plastics

Metal wires
Why Upgrade Your Rub Test Machine?
Rub testing is crucial for evaluating wear endurance, ink transfer tendency, coating durability, adhesive strength, and more. However, you can get the best results from rub testers customized specifically for the product and substrate you're testing. Upgrading your machine is not just a way to get the most out of your existing equipment but also to get better and more reliable results.
Consider the benefits of upgrading just the software of a highly functional SUTHERLAND 2000. Our machines are built to last, so upgrading the software will give you the functionality of a brand-new, modern rub tester at a lesser cost. It is also more sustainable than buying a new unit whenever you have a new product or material to test. Lastly, it opens customization opportunities, making conducting tests for your products faster and easier.
Upgrade Your Sutherland 2000 with Danilee Co., LLC
Danilee Co., LLC, is the manufacturer of the original SUTHERLAND Rub Tester, which practically wrote the ASTM Standard D-5264-98 2011 and Tappi T-830 for abrasion and rub testing. The Danilee SUTHERLAND also complies with the ASTM F1571, ASTM F 2497, TAPPI T830, and FINAT FTM 27 standards, among others. 
We are the team to call whenever you require updates and retrofits on SUTHERLAND rub testing machines. We provide new accessories (i.e., bottle cap adapters and can adapters) and design unique features for specific use cases. 
We'll be happy to give you more examples of the depth of customization and upgrades we can make on your rub testing machine. Call 830-438-7737 or send a message using our contact form.