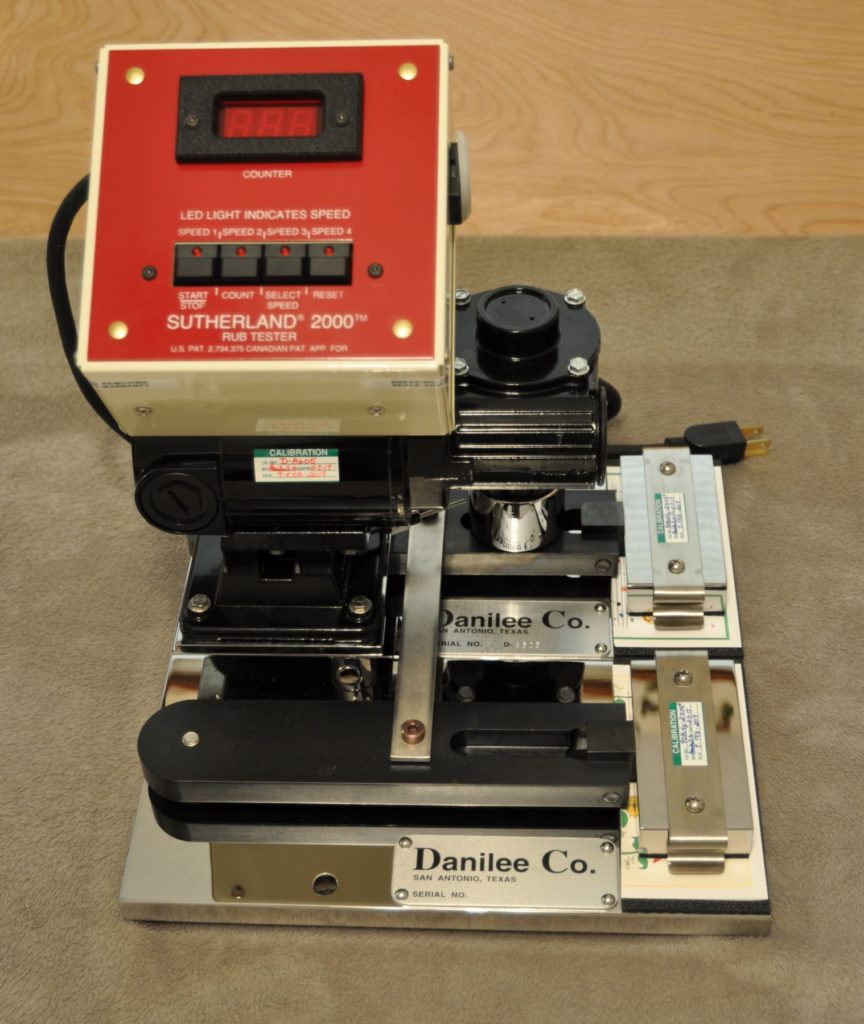 The Original Sutherland 2000 Rub Tester is widely recognized as the standard for testing product durability and abrasion resistance. It has been used in various industries for over 70 years. Further, this instrument WROTE the ASTM Standard D5264.
The Sutherland 2000 rub tester is a motor-driven machine that moves a weighted test strip for accurate abrasion testing. The sample is rubbed against a printed specimen to test the abrasion resistance of any printed material. The quick motion and strokes of the test strip through the machine's arc simulate the damage caused by shipping, handling, and other potential factors that can impact the quality of printed material.
Benefits of Using Sutherland Rub Tester
The Sutherland 2000 original rub tester WROTE the ASTM Standard D6264 ans also complies with many standards like the TAPPI T830, ASTM F1571, FINAT FTM 27, and ASTM F 2497. Companies use it to evaluate printing application methods, wear testing, coating durability, and ink transfer. Its primary application allows manufacturers to determine the quantitative effects of abrasion, rubbing, and smearing on many materials.
The Sutherland Rub Tester offers several significant benefits:
It Provides Accurate and Consistent Results
The Sutherland 2000 has a motorized arm that can precisely rub any printed material against standard abradants. This design allows the machine to conduct processes that ensure repeatable and consistent testing conditions. For this reason, this rub testing machine produces reliable, accurate, and verifiable results.
It Is Designed for Longevity
This machine has a robust design and is built to withstand multiple heavy testing procedures. If you're interested in a device you can use for the durability testing of your products, the SUTHERLAND 2000 Rub Tester is THE INDUSTRY STANDARD.
Wide-Ranging Testing Capabilities
This versatile machine has the capability of testing many types of printed materials. Companies can use it to test films, laminates, coatings, and ink as well as various materials. You can also test printed products on various substrates such as metal, plastic, cardboard, and paper.
It Is the Accepted Industry Standard
As stated earlier, the Sutherland 2000 tester has been used in the printing industry for over half a century. It has become the standard tool for testing product durability. This means the test results produced by this testing instrument are widely recognized and accepted by regulatory agencies, suppliers, and manufacturers.
Rub Testing of Printed Labels
Manufacturers have broad use for the Sutherland 2000 when testing printed labels. It gauges the level of scuff or abrasion that may result when products are stored, handled, and shipped. Examiners can use this device to test labels using a specified speed equivalent to a particular period of use or storage.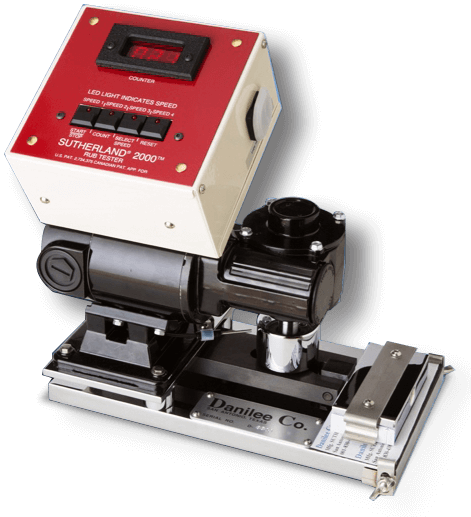 Speed Settings
The Sutherland 2000 rub tester features four different speed settings:
First Speed Setting:

This runs at 21 cycles per minute and is used for wet tests or any test that runs under five strokes.

Second Speed Setting:

This setting runs at 42 cycles per minute.

Third Speed Setting:

This runs at 85 cycles per minute.

Fourth Speed Setting:

This runs at 106 cycles per minute.
Key Specifications
The Sutherland 2000 has the following notable specifications:
Weight:

It comes in two and four-pound models as a standard and there are various custom weights available.

Stroke Speeds:

21, 42, 85, 106, cycles per minute. It can also be programmed for a 21-stroke wet smear test. It can also be configured for various custom speeds per customer request.

Maximum Number of Strokes

: 999 of which sets at a repeat mode.

Heated Weights:

Fully adjustable temperature range up to 500 degrees with solid 304 stainless steel weight block. The machine comes with an included silicone pad especially made for the heated weight.

Market Lifespan:

70+ year and counting lifespan with original machines that companies still use today. Upgrading of rub tester models is available upon request.
Industrial Applications
This rub-testing device offers many crucial industrial applications:
Cleaning products

Waxes

Paper products

Inks

Coatings

Wet Bleed/Transfer

Textiles

Colorfastness

Wet Rub

Dry Rub

Wet Smear

Tiles

Various materials
Why Choose Danilee Co., LLC?
Danilee Co. has built a solid reputation for providing world-class products catering to each customer's unique needs. We specialize in rub testers and similar machines, allowing us to offer high-quality devices suited to your specifications. We can help you develop your internal process for use with this machine.
Our Sutherland 2000 Rub Tester WROTE the ASTM Standard D5264, the Industry Standard for Abrasion and Rub Testing Since 1951. Accept no imitations. We are THE ORIGINAL SUTHERLAND 2000 RUB TESTER! Accept No Imitations!
Do you need features or adapters that will suit a specific application? Call our team today, and we can customize tools for your unique needs.