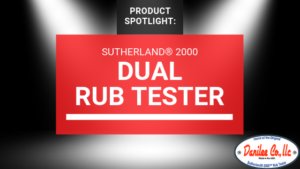 It's not everyday we decide to improve upon the machine that set the standard in rub testing. The original SUTHERLAND® 2000TM Rub Tester has been around for 60 years and counting however, here at Danilee we are always trying to innovate. How can we make our product better? And how can we achieve results for more products? That is why we introduced a slew of new adapters for our original rub tester by listening to our customers needs.
One of the original innovations to the original Rub Tester was the SUTHERLAND® 2000 Dual Rub Tester.
What's Different?
The most notable difference for the dual rub tester is the ability to test two specimens at once. This opens up the possibility to do A/B testing of products or get through your list of tests quicker. We offer the only dual tester on the market. The Dual Tester also allows you to add one of the new bottle cap, or bottle/can adapters on one side and flat rub testing on the other giving you way more options when it comes to testing.
Notable Specs:
Speed 1: 21 Cycles per minute
Speed 2: 42 Cycles per minute
Speed 3: 85 Cycles per minute
Speed 4: 106 Cycles per minute
Check out the Dual Rub Tester in Action:
Innovation in Modification
This is the only machine on the market that can be modified to test your specific product. Our quote form will help you dial into exactly what you need to get started, and what we need to give you an exact quote on the type of machines, adapters, and quantity you need. We love to be stumped, give us a call and we will be happy to invent a special adapter just for your needs.