The paint on the exterior of cars comes under stress every day. There are many different reasons for these stresses. Perhaps the car lives outside in a high-sunlight area and has sea-salt air blown on it every day. Or maybe it's parked daily under a tree with a nest of birds above the car, and it sees bird droppings on its roof daily.
Many things can damage a car's exterior paint. And so, the auto industry needs to ensure the paint used goes through rigorous paint rub testing. There should be a number of tests that automotive paint needs to pass to show that it can handle these stresses and hazards effectively. These industry tests evaluate the paint's thickness, hardness, color, glossiness, resistance to weather, corrosion, chemical agents, and more.
This post looks at what factors determine the strength of automotive paint and how rub testing is used in the industry.
Factors that Determine the Strength of Auto Paint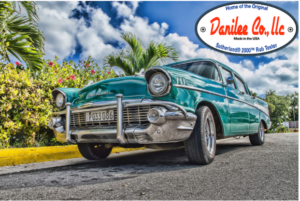 Abrasion Resistance
How well can the paint endure scrapes, scuffs, and even scratches? This paint rub testing examines the clear coat that layers the top of the colored paint. This abrasion resistance testing can tell whether this top layer can withstand all sorts of abrasions.
You'll find testers scuffing the paint, examining if there is any damage, measuring this damage, and then making an evaluation. The paint will pass if the testers are happy with the assessment and find that the paint can hold up against minor scrapes and issues. If not, they will then have to update the paint formula and try the testing again.
Paint Adhesion
Depending on the paint and what you're painting on, sometimes paint will be inclined to separate from its surface. That's why you'll sometimes find paint flaking or peeling. Of course, no one wants this to happen, especially to their car. Abrasion resistance testing will test to ensure the auto paint used will remain steady and won't peel, flake, or weaken. After testing, if the paint still shows signs of not adhering to surfaces, it will need to be developed further.
Paint Hardness
The reason experts test for paint hardness is that soft or flimsy paint is sensitive to scratches. And sometimes, these scratches can go deep. However, hard paint will withstand scrapes and scratches and ensure they don't penetrate through the paint right to the surface of the car. These rub tests can measure the hardness of the paint and determine whether it's enough to endure a fair amount of scratches.
How Rub Testing is Used in the Auto Industry
Many different components make up a vehicle, and the auto industry prides itself on providing quality and safe cars for its customers. It's essential that rigorous testing be done on all vehicle parts to achieve a long-lasting product.
Abrasion testing helps the automotive industry pinpoint when a product will need replacement. This involves rubbing a material at a specific weight and speed to determine when it will wear or break down.
Now, we've already mentioned the factors that determine a paint's ability to wear and tear, but other components would benefit from rub testing in the auto industry. These include the car's upholstery.
The fabrics used within vehicles will stand up to daily wear and tear. And since abrasion testing is calibrated to fit applications such as rubbers, plastics, paper, metal, and paints, the potential for testing is endless.
So, if you're in the automotive industry and looking for a reliable paint or upholstery rub tester, Danilee Co's Sutherland 2000 Rub Tester is the tool to use.
How the Sutherland 2000 Rub Tester Can Help
The SUTHERLAND® 2000™ Rub Tester is the industry leader in abrasion testing. Our rub tester is calibrated precisely to meet your specifications or cross-referenced specifications and utilized in your abrasion test process. For over 70 years, we have modified the rub tester to keep up with modern manufacturing demands, adding more speed controls and options, genuinely making it a product with multiple uses in a quality assurance setting.
Be sure that your products' durability ratings are up to industry standards with the SUTHERLAND 2000 Rub Tester. It has an established reputation for providing an exceptionally qualified rub-testing product for 70 years and counting.
Contact us today for more information on abrasion resistance testing!