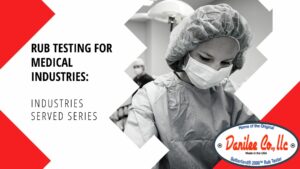 One of the most rewarding elements of providing the machine that set the standard in rub testing is the vast amounts of applications it is used in. In our Industries Served Series, we are delving into how our rub tester is being utilized in a range of ways and what makes the SUTHERLAND® 2000™ Rub Tester the leader in rub testing for nearly 70 years.
Medical Labeling
We rely on medical equipment whether in hospitals or private practice to give accurate readings and save lives when necessary. We depend on our medical workers to be able to use the tools at their disposal to provide excellent quality care. Consider the labels on a piece of equipment, they often tell the medical professional instructions of use, traceable asset ID information, last maintenance date, appropriate levels to watch for, and pertinent patient data critical for care. If those labels rub and wear and are no longer legible, the consequences could be huge. That is why medical manufacturers count on the SUTHERLAND® 2000™ Rub Tester to provide rub testing for medical labels to ensure they stand up to the rigorous use they will endure.
Medical Printing
Another application of the SUTHERLAND® 2000™ Rub Tester in the medical field is testing wear for medical printing. Outside of a typical label on equipment, there are plenty of applications where printed type is applied to the equipment itself.  This can dictate the model number, the voltage on the wiring connected to the equipment, or the measurements on a urine or blood bag. All of these applications need to hold up in a fast-paced hospital setting.
Personal Protective Equipment (PPE)
We have heard a lot about PPE lately during the COVID-19 outbreak of 2020. One of the things that many may not consider is the rigorous testing of personal protective equipment like face masks, medical gloves, and scrubs undergo to protect our medical workers. The SUTHERLAND® 2000™ Rub Tester is used to apply weights and different speeds to determine the level of wear needed to permeate that PPE. In a time where reusing masks is commonplace during a pandemic these tests give our hospital staff concrete data on how often they may be able to reuse those protective items.
These applications are just the beginning of where the SUTHERLAND® 2000™ Rub Tester can be used in medical abrasion tests. Our goal at Danilee is to provide a durable machine that lasts so your industry can count on its materials to perform at the standard your company stands behind.
Watch the rub tester in action in one of our latest videos, or request a quote today.