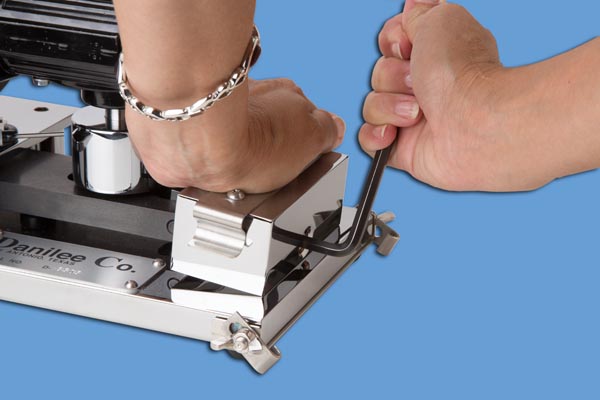 A rub test is a standard method used in assessing the durability of various materials in ink printing, packaging, beverage, food, labeling, fabrics, and many other types of materials that require rub testing; by determining their abrasion resistance. This test is administered by a special machine called a Sutherland 2000 Rub Tester that vigorously rubs the fabric until it shows signs of wear and tear. At this point, the test is finished, and the number of rubs is tallied to determine its rub count.
For over 70 years, Danilee Co has established a reputation for durability and reliability as the manufacturer of the SUTHERLAND® 2000™, The Original Rub Tester. This SUTHERLAND 2000 Rub Tester Wrote The ASTM Standard D5264. But even the reliable SUTHERLAND® 2000™Rub Tester will require maintenance and recalibration to keep it running smoothly. 
In this blog, we answer questions about the calibration of the rub test machine, including why it's necessary and how often it should be done.
What is a Rub Tester?
Abrasion damage can come from any source as long as contact and friction are present. It can occur at any time during the transport process (shipment, storage, or handling) or while in use by the end user. Constant exposure to friction can result in material degradation, which also impacts its appearance and quality.
A rub test is conducted using a rub tester to determine the point at which the material's quality is impacted. As mentioned before, a rub tester is a special type of equipment used to measure a material's durability through its abrasion resistance. During a test, the rub tester applies friction on a material until it shows signs of wear and tear, which signals the end of the test. The number of rubs is then measured to find its rub count.
A rub test machine is standard in testing the abrasion resistance of labels, corrugated boxes, printed materials, and textiles, among others. These are tested using several different testing methods, including:
Dry Rub

Wet Rub

Wet Bleed or Transfer

Wet Smear

Functional Rub
What are the Applications of a Rub Tester?
The main function of a rub test machine is to simulate the actual environment of the target material's application. By evaluating the extent of its abrasion resistance, more insight can be gained into the material's potential applications and working environment.
For instance, in the textile industry, materials are assigned potential applications based on their rub counts. For example, material with low rub counts is used for decorative pieces, such as throw pillows and scatter cushions. Meanwhile, materials with high rub counts are used for frequently used furniture such as sofas and office chairs.
Why Is Calibration Necessary?
Like any other material, a rub tester is also subject to wear and tear because of its constant exposure to friction. Therefore, to keep things running smoothly, it's recommended to subject your SUTHERLAND® 2000™ Rub Tester to servicing and maintenance every two years. Although you can vary the timeline for maintenance, two years has proven to be the optimal period for maintenance that can prolong the machine's service life if followed.
As part of repairs and maintenance routines, the rub test machine must also be re-calibrated regularly to ensure the accuracy of test results. In addition, pads must be replaced every six months because they can degrade with each use. If you are a heavy user, the pads must be replaced more regularly. Meanwhile, the weights must be level and aligned perfectly with the base unit to secure the material and ensure tests go smoothly.
How Calibration is Performed?
Once the machine is sent to our facility. We inspect the machine for signs of wear and damage. You are notified if there are any severe repairs that are required that may incur additional costs. The machine is checked for timing. Then is partially disassembled, deep cleaned, and greased. New pads are applied. The timing is checked with a specific and accurate method on the 4-speed machines at:
Speed 1-  21 strokes per minute +/-2 seconds

Speed 2-  42 strokes per minute +/-2 seconds

Speed 3-  85 strokes per minute +/-2 seconds

Speed 4-  106 strokes per minute +/-2 seconds
Any adjustments that need to be made are done by our qualified technicians in our facility. We are the ONLY facility in the world to perform these adjustments.
Once the machine is completed we then inspect the 2 lb and 4 lb weights. The pads are removed and the weight is placed on our calibrated scale to ensure it is at the proper weight of 907.18 grams (2lb) +/- 3 grams and 1814.37 grams (4lb) +/- 3 grams. If the weight is out of tolerance, then the weight is added or removed by our qualified technicians. The weight is cleaned and a new pad is affixed.
The machine is affixed with new stickers from the factory. A calibration sticker is signed and dated with a due date for the next calibration. The two-year calibration certificate is signed and sent with the machine along with the test results of the timing and weights.
Our Sutherland 2000 Rub Tester WROTE the ASTM Standard D5264 which is the Industry Standard for Abrasion and Rub Testing Since 1951, accept no imitations WE ARE THE ORIGINAL!
Commitment to Quality
Danilee is the original manufacturer of the SUTHERLAND® 2000™ Rub Tester. With over 60 years in the industry, we have established a legacy of reliability and excellence in our equipment. Contact us today for information on our products or to request a quote!